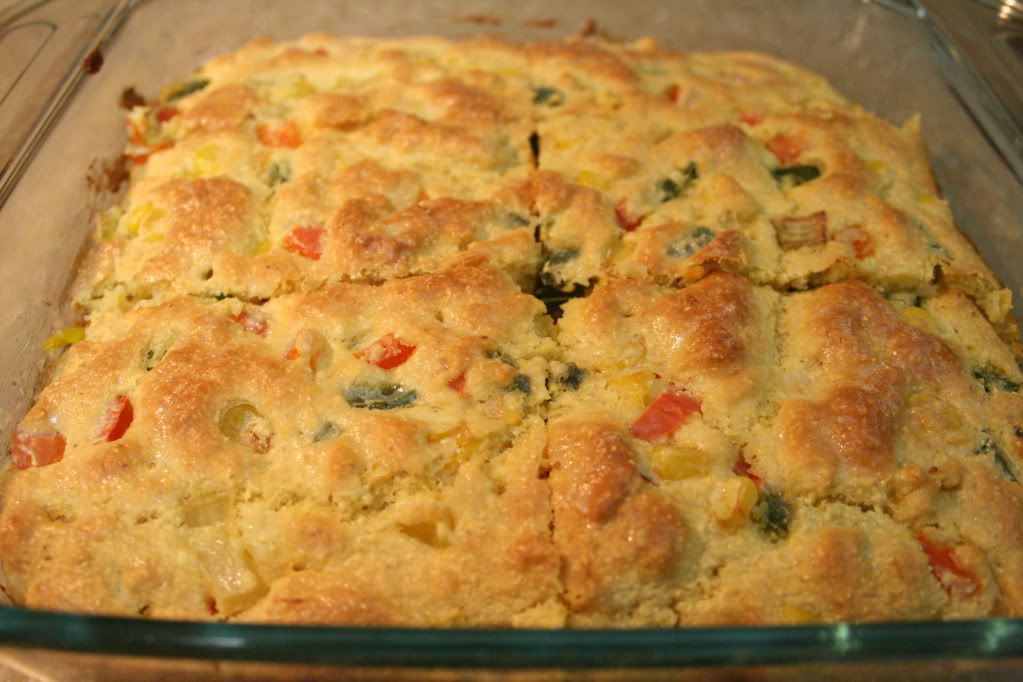 1 teaspoon vegetable oil
2 medium jalapeno peppers, seeded, deveined and finely chipped
1/2 cup chopped onion
1/2 cup diced red bell pepper
1 cup minus 1 tablespoon all purpose flour
1 cup uncooked yellow cornmeal
1 tablespoon double-acting baking powder
1 teaspoon salt
1 teaspoon sugar
1 cup drained cooked fresh or frozen corn kernels
1/2 cup low-fat milk
1/2 cup plain nonfat yogurt
1 egg white
Preheat oven to 400. Spray 8" square baking pan with nonstick cooking spray.
In large nonstick skillet, heat oil; add jalapeno peppers, onion and bell pepper. Cook over medium heat, stirring frequently, 8 minutes, until vegetables are tender. Transfer to small bowl; cool to room temperature
Meanwhile in medium bowl, combine flour, cornmeal, baking powder, salt and sugar.
Add corn, milk, yogurt and egg white to onion mixture; stir to combine. Add corn mixture to flour mixture; stir just until combined. Transfer mixture to prepared baking pan; bake 30 minutes, until cornbread pulls away from sides of pan. Transfer pan to wire rack to cool.
Makes 6 servings