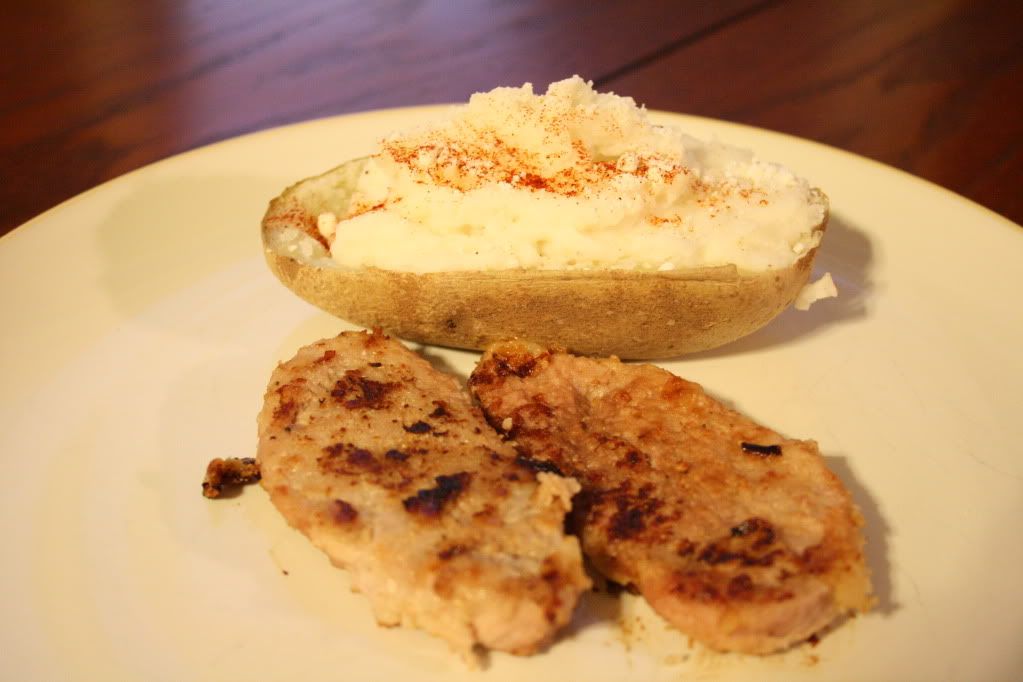 Parmesan Pork Tenderloin
1 lb. pork tenderloin
3 T. seasoned bread crumbs
1 T grated Parmesan cheese
1 t salt
1/8 t pepper
Cooking oil spray
1 small onion, chopped
1 clove garlic, minced
1. Cut tenderloin into 8 pieces, approximately 1-inch thick. Place each slice on its cut surface and flatten with heel of hand to 1/2 inch thickness.
2. Combine crumbs, Parmesan cheese, salt, and pepper; dredge pork slices to coat.
3. Heat large non-stick skillet coated with cooking spray over medium heat.
4. Add pork, onion, and garlic and saute 8 to 10 minutes, turning pork once and stirring veggies occasionally.
Makes 4 servings.
Twice-Baked Garlic Potatoes
4 large baking potatoes, scrubbed
1 garlic clove
1/2 cup chicken broth
1/2 cup sour cream
1/2 teaspoon pepper
1/4 cup Parmesan cheese
Paprika
1. Preheat oven to 425.
2. Pierce the potatoes with a fork several times, place them on a baking sheet. Wrap garlic clove in foil and place along side the potatoes. Bake until the potatoes are tender and the garlic is browned and softened; 50 to 60 minutes. Let the potatoes and garlic cool until comfortable to handle; about 15 minutes.
3. Halve the potatoes lengthwise; scoop the pulp into a large bowl, leaving the skins intact. Cut the garlic clove in half, squeeze out the pulp and add to the potato. Add the broth, sour cream, and pepper; stir and mash with a fork to the desired texture. Spoon the stuffing back into the potato skins; sprinkle with Parmesan cheese and paprika.
4. Return the potatoes to the baking sheet and bake until heated through and lightly browned, about 15 minutes.
Makes 8 servings.