Wow it's been a while. A little over a month. I hope to try and keep this thing updated more, but not making any promises! Surprisingly, not a lot has happened over the past month. Landon has gotten bigger and so have I. His vocabulary has exploded and he shocks us each and every day saying new things. He loves to use the word "probably" when answering questions.
I am now 25 weeks pregnant. This pregnancy is flying by. Part of me is happy and part of me is sad. This will be our 2nd and final child. I am sort of ready for our family to be "complete" and sort of sad I will never experience the excitement surrounding bringing a new baby home, etc after Jonas. If I remember I will take a belly picture Thursday when I am 26 weeks. I have grown so much and a lot of people are having a hard time believing I have until the end of February until Jonas is here.
David's job is still uncertain. His company is still for sale but not sure what that means. They recently closed 250 offices around the US, thankfully not too many in SC. I am just hoping this is a wave we need to ride out and then things will be okay soon. There isn't much out there right now for someone with financial experience so he is pretty much stuck where he is for now.
Below are some pictures from Halloween (I know, I know...I'm a little late), Landon's Grampy chair and our visit with Santa.
Here is Landon's classic "smile" when I ask him to smile: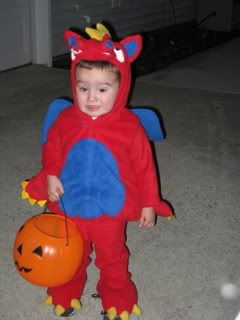 Here is Landon eating a snack in his Grampy chair. This is my Dad's highchair he used when he was little. What is so cool is that it fold out into a nifty little table.
Here is Landon's visit with Santa. We got there right after he left for dinner. Thought we were crazy for standing in line while he wasn't actually there but we ended up only waiting 45 minutes. Not bad at all. Landon walked right up to him and told him everything he wanted. I was so hesitant since he didn't want anything to do with Santa last year.