Wow it has been a while! I need to get back into the habit of updating this blog! It's actually a great way to keep up with what my kids are up to since I am so far behind on baby books. Good thing we aren't having any more children or I would have that many more empty baby books! Not much has been going on. The kids are growing like crazy and are into everything. Crazy that we are celebrating Landon's 4th birthday this weekend! Jonas' 1st is right around the corner as well!
Just thought I would share this recipe since we made them today and Landon seemed to enjoy them!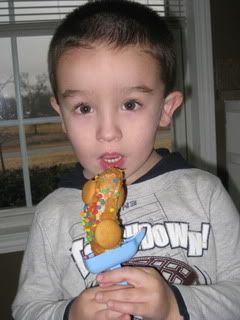 Polka-Dotted Banana Pops
You will need:
1 banana
8 mini vanilla wafers
peanut butter
sprinkles
popsicle sticks
You will:
-cut the banana in half crosswise and stick the popsicle stick in the flat end
-spread peanut butter all over the banana
-put 4 mini vanilla wafers around on each banana
-sprinkle sprinkles all over
-serve to a cute awaiting kid
You can also freeze these for up to a week when wrapped in cling wrap.