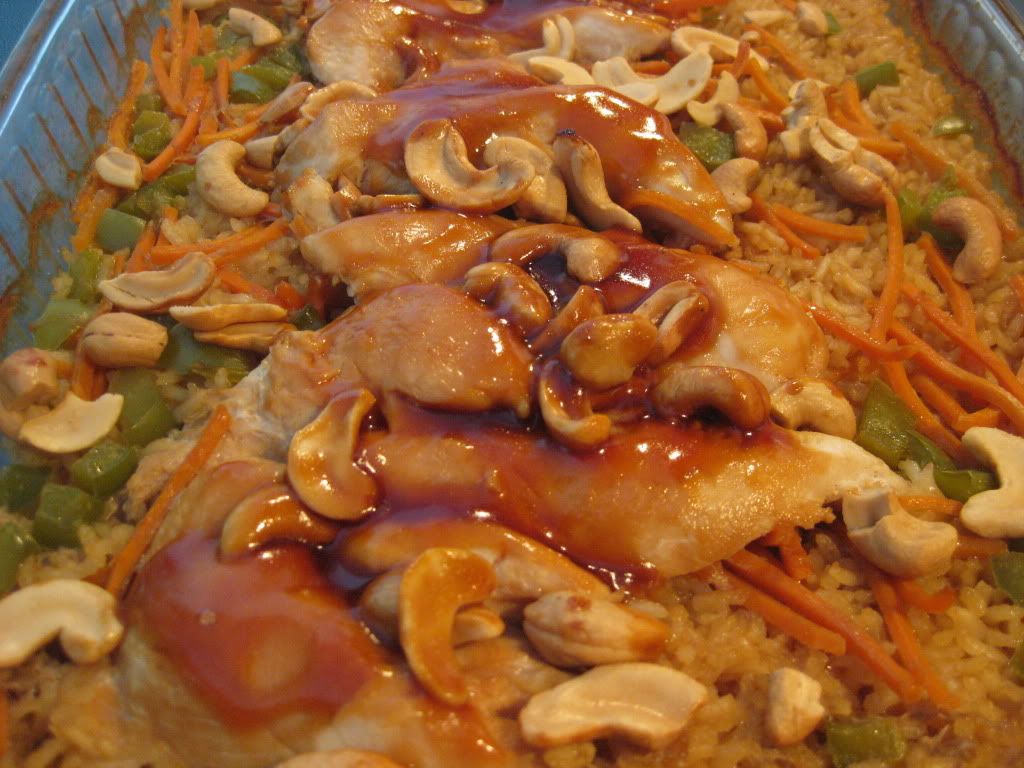 1 cup uncooked regular long-grain white rice
1 cup baby-cut carrots (I used matchstick cut)
1 medium stalk celery, thinly sliced-1/2 cup (I didn't put this in mine)
1 small red bell pepper, chopped- 1/2 cup (I used a green pepper)
1 3/4 cups chicken broth
1/4 cup teriyaki sauce
1/4 cup water
4 boneless chicken breasts- 1 pound (I used chicken tenders)
3 tablespoons teriyaki baste and glaze (I used more per judgement)
1/4 teaspoon ground ginger (I didn't put this in mine)
1/2 cup cashew pieces
1. Heat oven to 374 degrees F. In ungreased 11x7 inch (2 quart) glass baking dish, mix rice, carrots, celery, bell pepper, broth, teriyaki sauce and water. Arrange chicken on rice mixture.
2. In small bowl, mix teriyaki basted and glaze, and ginger. Brush over chicken, using all of mixture. Cover baking dish with foil.
3. Bake 45 minutes. Sprinkle with cashews. Bake uncovered 10 to 15 minutes longer or until juice of chicken is no longer pink when centers of thickest pieces are cut and rice is tender.