Wonder where I have been lately (probably not), but I am going to tell you anyway! Tuesday I had a training to re-certify myself so I can restrain students. While I didn't need this at all last year you never know. Good thing is that I will not be restraining students this year because of my expanding belly! YAY! I have Wednesday and Thursday were spent in a pine straw basketry class. Who ever knew you could make baskets out of pine straw! You can though and I now know how. I am excited to get my hands on more pine straw and make a bigger basket.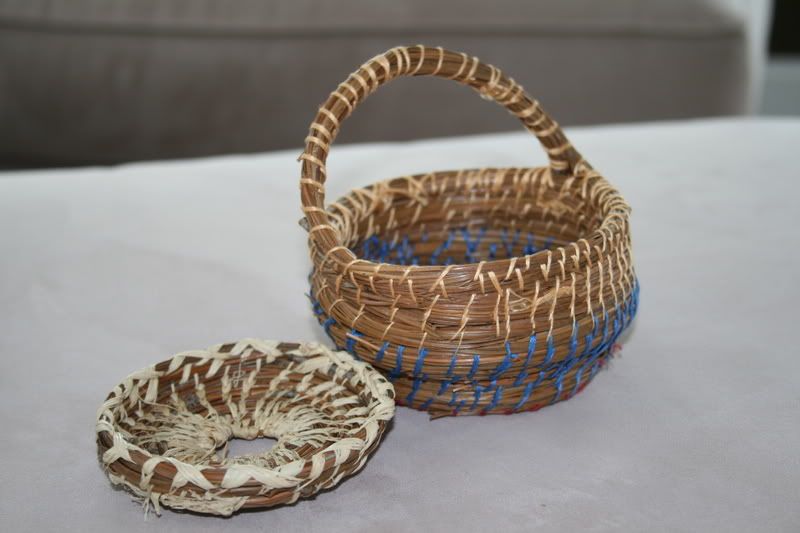 Above are my two pieces of work. They are a little rustic, but they are there! I plan to keep on practicing. If you would like to learn how to do this look
here
.
I have been taking Landon to the library all summer and we have finally read 45 books. He got a cool bug catcher, but even cooler this:
It's his "toota!" He is very proud of his tattoo and will gladly show it to anyone and everyone!
You might ask why not recipes lately...well because my dear friends I haven't cooked hardly anything at all. The thought of cooking makes me sick. We unfortunately have been eating out a lot. I hope to get back on track. I decided to take this coming week off from trying new recipes in hopes I can find some energy and the stomach to cook. Food itself doesn't make me sick because I am starving all the time, but the thought of mixing food makes me sick! Fun huh?
Speaking of eating, we were sitting in the living room the other night and I could have sworn I smelled scrambled eggs. Well you can guess what that lead up to...David cooking me eggs. Isn't he great? Shortly after I had a plate of scrambled eggs with a little bit of salt and pepper and cheese. YUM!
My 1st Dr. appointment is Tuesday. I am just so thankful to have made it this far. Every day that goes by is another day that I am still pregnant and another day closer to meeting this little baby. Landon is still telling me that I have a bunny rabbit in my tummy. Thank goodness I am having another c-section...the thought of rabbit ears coming out any other way is frightening!
Last, but no least...THANK YOU
Amy
for featuring me on your blog! Yay for Pay It Forward Friday!