This past Saturday we went down to visit both sets of my grandparents. Talk about a busy day but I think everyone had a great time...including Landon. He got so many new toys that I am thinking Santa could just skip over our house. Landon begs to differ but Mommy, who has to find a place for all of the new toys, thinks so. I realized while going through pictures I stink at taking them because my only subject seems to be Landon. You will also notice below that he has developed that very cheesy boy smile.
Here are some of the cutest overalls ever given to Landon by my aunt and uncle: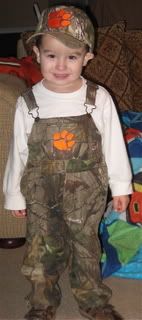 Landon with his new monster truck also given to him by my aunt and uncle: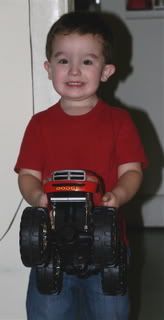 A new car case given to him by another aunt. He no longer has to use my pink Clinique bag to store all of his cars!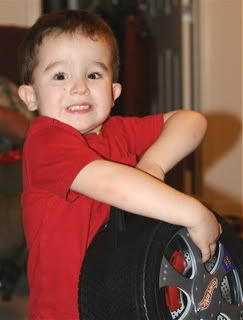 A road set given to him by my grandparents: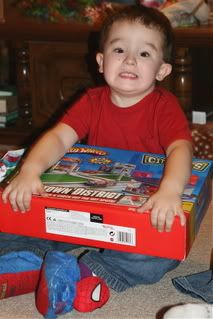 Having fun with his road set (looks like he is at serious work):
So, you can see a major theme in the toys. I guess my future hold lots more trucks and cars. You'll find very few girly toys in my house these days!
Speaking of Landon, I attempted to try the potty thing with him again yesterday. By 3 I had a full load of laundry ready to be washed and he had not gone in the actual potty once. I quickly gave up. What a weenie I know...but really running him to the potty every 15-30 minutes just to have him go in his pants a couple minutes later is not my cup of tea. I'm clueless about where to go from here. At this point he can just stay in diapers until he moves out! We did however manage to make cookies for Santa during the day:
Sorry sweetheart...that isn't a phone linked to Santa!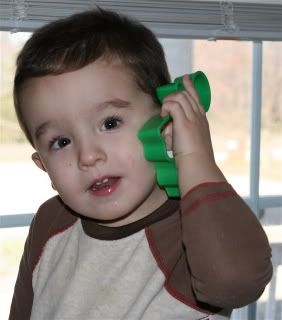 I have a picture like this of EVERY cookie Landon helped me make. He insisted I take a picture every time!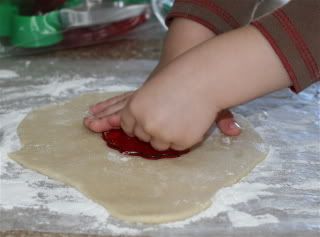 The result of the above picture: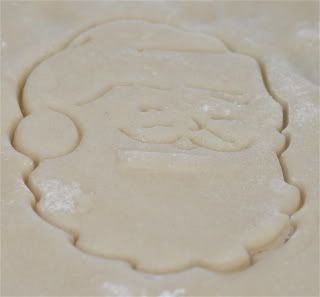 Surprisingly, I didn't end up with sprinkles all over my kitchen: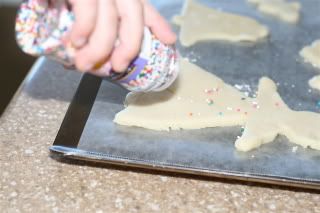 Jonas is a busy body. My stomach is the newest playground in town I guess and this kid has taken over! Not only does it look like I have swallowed a watermelon (or two), he seems to be in almost constant motion. We have another ultrasound on the 29th and I cannot wait to see the little guy again. It is hard to believe that 9 weeks from Christmas he will be here! YIKES! My Mom and I started sorting clothes yesterday and I can surely say he will not go naked for the first 2-3 years of his life at least. I never realized buying baby clothes became my new hobby.
Not sure if I have mentioned it or not on here, but we have started going to a new church lately. And when I say new I mean brand spanking new as in we aren't even really a church until January. Things are still in the planning stages but are quickly reaching the major launch date of January 11th. We had a Christmas service this past Sunday night about HOPE and it turned out great! I was amazed at God's work in gathering so many people together. Check out Capstone's
website
for more information!
I guess that is enough of an update for a while. Stay tuned for more pictures of who else....but Landon. I will also be posting a picture later this week of my gigantic 30 week (WOWOWOW) belly. Also hope to be posting more ultrasound pictures of little guy next week. So much to look forward to!