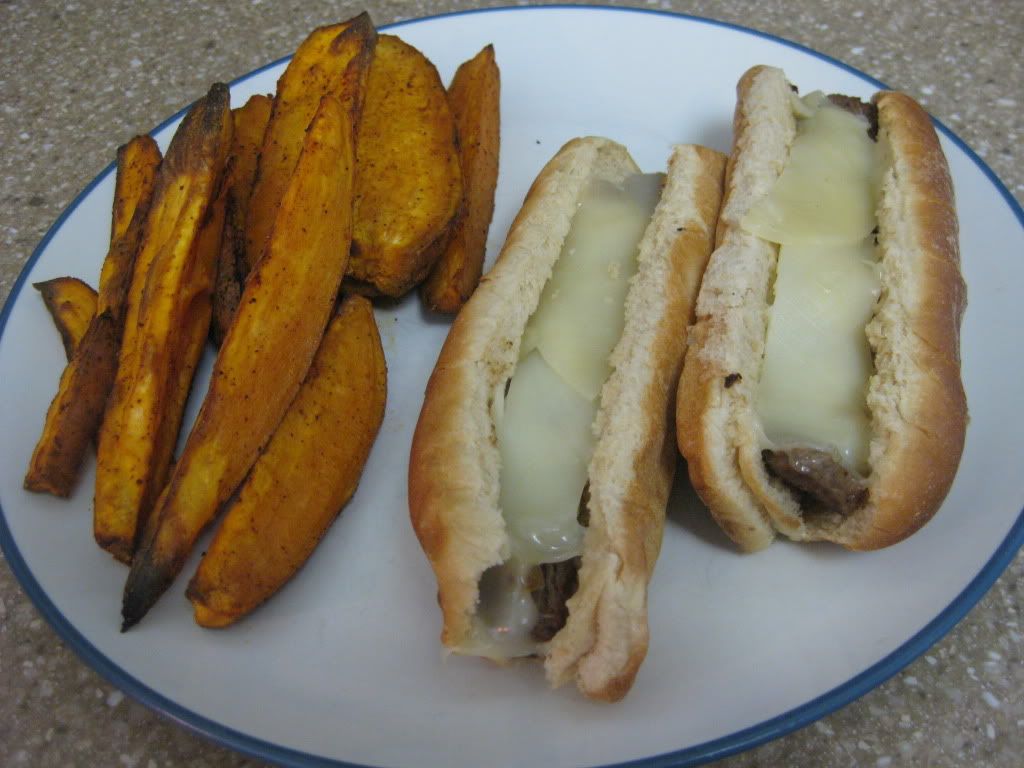 Philly Cheese Steaks- 7 points
1 spray(s) olive oil cooking spray
1 medium onion(s), thinly sliced
1 pound(s) raw lean flank steak, cut into 8 thin slices
2 tsp Worcestershire sauce
1/4 tsp table salt
1/4 tsp black pepper
4 roll(s) reduced-calorie hot dog bun(s)
1/4 cup(s) low-fat shredded cheddar cheese


Preheat oven to 350°F. Coat a large nonstick skillet with cooking spray; set pan over medium-high heat. When pan is hot, add onion and sauté until tender and golden brown, about 10 minutes. Remove onion from pan; set aside. Add steak to skillet and sauté until browned and cooked through, about 1 to 2 minutes per side. Add Worcestershire sauce, salt and pepper; cook until liquid is absorbed. Divide steak evenly between buns and top with onion and cheese. Wrap in foil, transfer to oven and bake until cheese melts, about 5 to 7 minutes. Yields 1 sandwich per serving.
Oven Fried Sweet Potatoes- 2 points
4 medium sweet potatoes, cut into wedges
1 tablespoon vegetable

oil
1/4 teaspoon pepper
1/2 teaspoon paprika
1/8 teaspoon salt

Place potatoes in bowl of water and let stand for 15 minutes. Preheat oven to 425 degrees. Spray a non stick cooking sheet with cooking spray. Set aside. Drain potatoes in colander
. Spread on paper towels and pat dry. Put potatoes in large bowl. Sprinkle with remaining ingredients and toss gently. Arrange on prepared baking sheet.
Bake for 20 minutes. Turn potatoes and bake another 20 minutes or until golden brown, turning sheet halfway through each cycle to brown evenly.