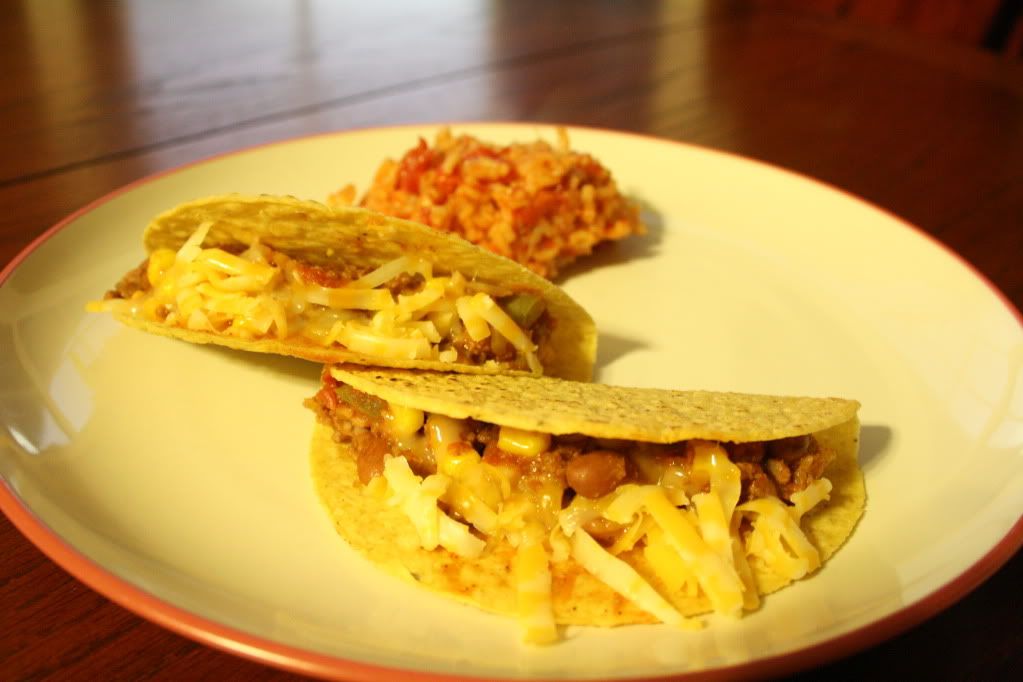 Beef, Bean, and Vegetable Tacos
2 teaspoons vegetable oil
1 small green bell pepper, seeded and chopped
1 (1.25 ounces) envelope taco seasoning mix
1 (14.5 ounce) can chili-style tomatoes, drained
1 (16 ounce) can pinto beans, rinsed and drained
2 cups chopped romaine lettuce
½ cup (2 ounces) reduced-fat shredded cheddar cheese
Heat oil in a large nonstick skillet over medium-high heat. Add onion and pepper; sauté 3 minutes. Add beef and cook until beef is browned and vegetables are tender, stirring to crumble meat.

Add corn, taco seasoning mix, tomatoes, and beans; bring to a boil, stirring occasionally. Reduce heat, and simmer uncovered, 15 minutes or until mixture is slightly thick. Stir in cilantro.

Spoon 1/4 cup beef mixture into each taco shell; top evenly with lettuce and cheese.
Red Mexican Rice
In pot heat oil over medium-high heat, add onion, rice and garlic. Cook stirring frequently, until rice browns slightly, 1 to 2 minutes. Add 3/4 cup water, salt, oregano, pepper and tomatoes with juice. Cover and bring to boil. Reduce heat to low simmer 20 minutes. Remove from heat; let stand 5 minutes. Fluff with fork; transfer to serving bowl.