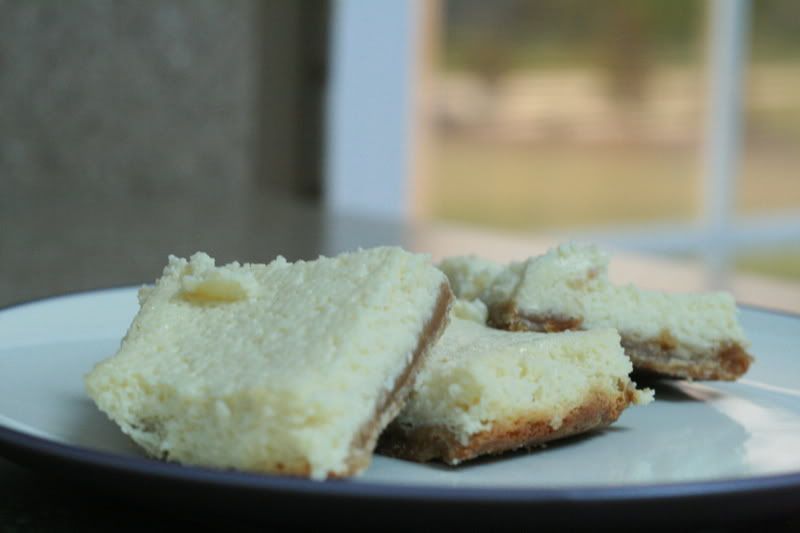 I made these for David for his birthday and they are wonderful!
Ingredients:
20 Nilla Wafers, finely crushed
1/2 cup flour
1/4 cup packed brown sugar
1/4 cup (1/2 stick) cold margarine
1 pkg cream cheese
1 cup granulated sugar
2 eggs
2 Tbsp flour
3 Tbsp grated lemon peel
1/4 cup fresh lemon juice
1/4 tsp. baking powder
2 tsp. powdered sugar
Preheat oven to 350F. Line 8-inch square baking pan with foil, with ends of foil extending over sides of pans; set aside. Combine wafer crumbs, 1/2 cup flour and the brown sugar in medium bowl. Cut in margarine with pastry blender or two knives until mixture resembles coarse crumbs; press firmly onto bottom of prepared pan. Bake 15 min.
Meanwhile, beat cream cheese and granulated sugar with electric mixer on medium speed until well blended. Add eggs and 2 Tbsp flour; mix well. Blend in 1 Tbsp of the lemon peel, lemon juice and baking powder; pour over crust.
Bake 25 to 28 min or until center is set. Cook completely. Cover and refrigerate at least 2 hours or overnight. Sprinkle with powdered sugar and garnish with remaining grated lemon peel, if desired, just before cutting into squares to serve. Store leftover squares in refrigerator.